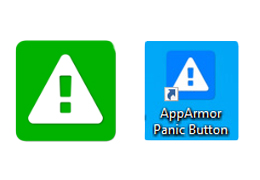 At the UCCS Police Department, the safety of our community is our utmost priority. We are continually exploring innovative ways to improve our response systems and ensure the security of all. With this in mind, we have partnered with Rave / AppArmor, a leading safety and security software provider, to introduce a new panic button desktop software.
About the Software
This software, symbolized by a green icon on your desktop, serves as a direct line of communication with our department during emergencies. We've tailored it to be user-friendly and efficient, ensuring rapid response in times of crisis.
---
PC Naming Conventions and Locations
The naming convention we use for our computers helps us swiftly identify the source of an alert. Typically, names reflect the building name and room number. This plays a crucial role in our ability to promptly and accurately respond.
However, if you have shifted your position (e.g., using a laptop in a different room than what your PC name suggests), it's imperative that you specify your current location in the alert information for our team to respond accurately.
If you have moved offices permanently and need to update your computer's naming convention to reflect this:
Check your PC's name: Press Windows + Pause/Break keys simultaneously. This will open the System Properties window where you can see the 'Computer Name'.
If your PC name no longer matches your actual location, please contact the OIT Service Desk for updates.

---
How to Use the Panic Button Software
Upon triple-clicking the green icon on your desktop tray icon or the associated desktop icon, the panic button becomes active. A new window appears where you can detail the nature of the incident. If your location has changed from what is indicated by your PC's name, it's essential to provide your current location in this window. Should the alert be generated mistakenly or if the situation stabilizes, you can cancel the alert from this window.

---
Important Notice for Laptop Users
The panic button is in the testing phase for laptop users. It may not work consistently on laptops. We're striving to make it available for all platforms. Updates on its readiness for laptops will be communicated when final. We appreciate your patience.
---
If the Panic Button Icon is Missing
If the green panic button icon isn't visible on your desktop:
Contact the OIT Service Desk at 719-255-4357.
Or, seek online support at OIT UCCS Help https://oit.uccs.edu/get-help.
---
Testing the Panic Button
If you wish to test the panic button:
Request permission from the UCCS Police Department at 719-255-3111.
After approval, you can try the button without summoning an emergency response.
Our Commitment
The UCCS Police Department remains committed to enhancing the safety of our community through innovative solutions. By integrating the Rave / AppArmor Panic Button Desktop Software, we hope to improve our emergency response times and maintain a secure environment.

Please contact us if you have any questions or need more information about this software.