Greetings from the Chief of Police
---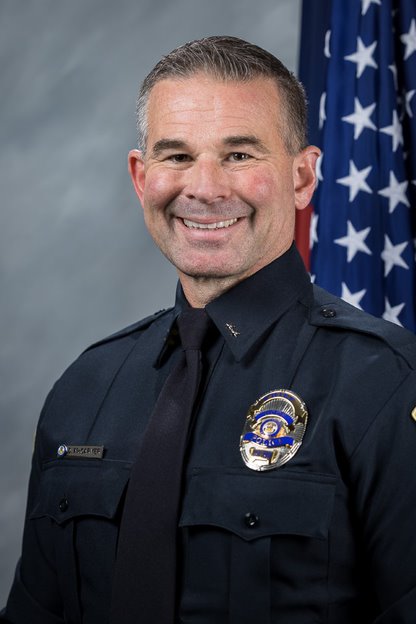 Welcome to the University of Colorado at Colorado Springs!  On behalf of the amazing men and women who serve in the UCCS Police Department and Environmental Health and Safety, I would like to thank you for visiting our website.  As your Chief of Police and Executive Director of Public Safety, I'm very proud to share with you some information regarding our mission and vision.
The UCCS Police Department and Public Safety Division are responsible for promoting a safe, secure, and equitable environment on campus by providing compassionate police services to the entire UCCS community.  We recognize that every single interaction is important and impactful.  We will strive to make the lives of those around us better each day.  The UCCS Police Department is staffed with exceptional officers, communications technicians, and police operations specialists who are committed to being a collaborative, innovative, and proactive police agency.
Our Environmental Health and Safety Division aids members of the University community by evaluating and minimizing risks in the wide-range and multifaceted activities of faculty, students, and staff.  They are also responsible for the proper disposal of toxic materials, the maintenance and analysis of records, and documentation for regulatory agencies.
I encourage you to browse our website to learn more about our department and resources, and to learn how to download our campus safety app, Rave Guardian.  I also encourage you to follow us on Facebook and Twitter.
Thank you for visiting the UCCS Police Department's website, and we look forward to seeing you around campus!
 
Dewayne McCarver
Chief of Police
Executive Director of Public Safety
 
ABOUT CHIEF DEWAYNE MCCARVER
Dewayne McCarver (he/him) joined the UCCS Police Department in October of 2022 after retiring from the Huntsville (Alabama) Police Department as a Deputy Chief where he served for more than 27 years. During his time with the Huntsville Police Department, he served as the Investigations Bureau Commander, Criminal Investigations Division Commander, Precinct Commander, Director of Training, Incident Response Team Commander, Honor Guard Commander, HIDTA Task Force Commander, Training Advisor, and Field Training Officer. Awards received during his career include Supervisor of the Year (2010 and 2013), Officer of the Year, Outstanding Performance Award, Purple Heart Medal, Outstanding Unit Citation (3), Certificate of Commendation (11), Good Conduct Award, Outstanding Physical Fitness Award, and the Education Award. Chief McCarver holds a Master of Science in Justice and Public Safety from Auburn University-Montgomery and is a graduate of the FBI National Academy (Class 279).
Chief McCarver has been married to his wife DeAnna for more than 20 years and has three sons. In his spare-time he loves to trail run, workout, and read. As a new Colorado resident, he plans to learn how to ski!